RMA Services
RMA (Return Merchandise Authorization) is one of the most significant aspects of our business and it is our commitment to our customers to offer the best support we can.
Terms and Conditions of RMA Policy:
Proof of Purchase: Original invoice must accompany the RMA goods sent in for Warranty claims.
Warranty Void: Achieva Technology Sdn Bhd reserves the right not to entertain the Warranty request if product is found to be chipped, physically damaged, mishandled during delivery, electronically burnt, tampered with, labels removed, failure to follow product instructions or guidelines, unauthorized repair or modification made by users.
Shipping/Courier Cost: Reseller will pay for any postage, freight or insurance charges incurred for the delivery of product to Achieva Technology Sdn Bhd. All risk for the product will remain with Reseller until Achieva Technology Sdn Bhd acknowledges the product.
FOC Items do not have warranty coverage.
One-to-One Swap: One-to-One swap of products is subject to stock availability.
Guidelines for Manufacturer's Warranty and One-to-One RMA Swap for Resellers (*Subject to Vendors' Policy)
Uncollected items: Uncollected RMA/Warranty item that is back from Vendors will be forfeited after 3 months from the date of return from Vendors.
Accessories: Achieva Technology Sdn Bhd will not be responsible for the loss of accessories. As such, do not bring in any accessories for warranty processing.
Data and Software Loss: Achieva technology Sdn Bhd will not be responsible for the loss of data or software. Backup of all data and software is advised.
RMA Policy Update: Our policy is subject to change without prior notice to provide better services for future improvement.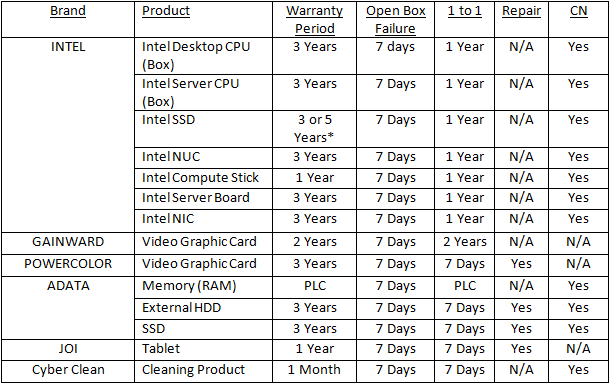 * Refer to vendor's warranty period.
* All Open Box Failure replacement subject to Vendor's approval.


Malaysia
RMA Department (HQ)


Tel: +603-7955 1768

RMA Department (PG)


Tel: +604-228 8098


Serial Number Tracking
Track your products warranty record here.